SECTIONING
Sectioning removes height from the vehicle.
Instead of taking from the top, material is removed horizontally from the actual body. The top half is then lowered and welded back onto the bottom half.
The purpose is to reduce the overall height of the bodywork of the car. Like a roof chop, sectioning reduces a car's frontal area, and reduces wind resistance.
Sectioning is the most serious of all body modifications. Proceed with caution. Once you have cut half the car away, there is no going back.
On fat fendered hot rods, it is common to section the hood. A wedge section can be removed from the sides of the hood, causing the hood to slope lower in front instead of riding flat.
For a smoother appearance, you can also section a variety of other pieces to pull them in closer to the body.
To see a professional step-by-step severe sectioning job on a topless '32 Ford, visit:
http://www.rodandcustommagazine.com/techarticles/0601rc_1932_ford_body_section/index.html
Thanks for reading this brief description of chopping, channeling and sectioning a hot rod. While you are contemplating just when enough modifying is enough, enjoy some of these photos taken at hot rod and street rod events around the U.S.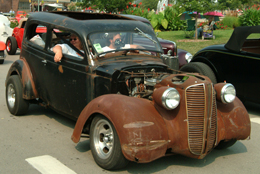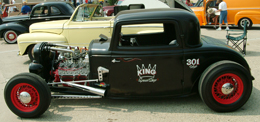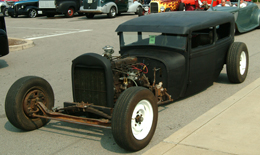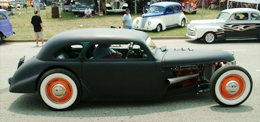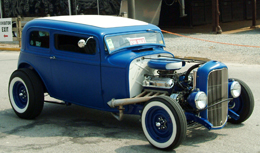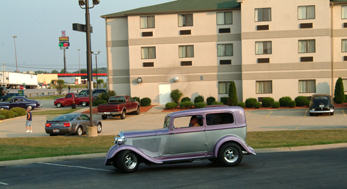 Why don't you join us at the NSRA Street Rod Exhibition in Louisville, Kentucky on August 7, 8 & 9, 2009?
You can bring home a camera full of your own vintage dreams!