Hot Rod Defined ...
So, what exactly is a hot rod? Opinions differ.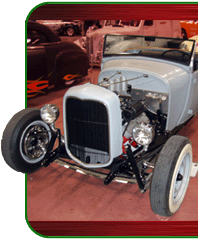 Typically, hot rods are American cars with large engines that have been modified for speed.
Belonging to the culture and sub-cultures is a huge part of the fun in owning any type of fun car, be it a street rod, rat rod, roadster, muscle car, race car, etc.
"Hot Rod" is the broad category. A car can fall into a variety of sub-classifications defined by enthusiasts of that particular culture.
For example, a person may prefer Ford over Chevrolet, or a particular era and style, such as the 1932 Ford (or "Deuce Coupe") versus 1940's hot rods.
Then there is the manner in which a car is built out and enjoyed. Consider, for example, the healthy rivalry between owners of street rods and rat rods, which we'll discuss in another article. Construction of a hot rod requires skills in mechanics, welding, and automotive paint and body work. Today, people who own hot rods keep them clean and try to make them noticeable.
Although collectively they are all referred to as Hot Rods, the many different categories of Hot Rodding include:
| | |
| --- | --- |
| | Street Rods, or sometimes Billet Rods (noted by many items being made from Billet aluminum) |
| | Traditional Rods (sticking to building techniques and materials of a particular time) |
| | Rat Rods (pieced together to look like old-time jalopies ... yet sometimes requiring more work than a show rod) |
| | Show Rods (Hot Rods created to compete in National Car shows) |
Working Definition of Hot Rod
The term "hot rod" is sometimes broadly applied to any high performance car, including modern cars. In general, the hot rod culture considers a vehicle that:
was first introduced in a previous era, also called "vintage car" or "antique car"
has been modified to make it go faster, and/or
embellished to appear more beautiful in the eyes of the owner
or others who gaze upon it
At Red Hot Hotrods, if you call your car a hot rod, we applaud you! We do not reject any vehicle for any reason, except one...
The majority of foreign cars manufactured in the last 35 years will never be accepted into the hot rod classification. And why is that? Have you ever heard the strange 2 cycle-like sound coming from their exhaust? That irritating popping noise will not fly with hot rod buffs.

If you're driving a hot rod, you are
feeling that deep, throaty rumble as
you cruise down the highway...
Hot Rod Controversy
There is a growing controversy within the automotive hobby industry over a trend towards acquiring and irreversibly modifying surviving historic - some even very rare - vehicles. Traditional hot rodding concept involves salvage and remanufacture of reusable junked parts.
Location and Lifestyle
Today, a vibrant hot rod culture exists worldwide, especially in Canada, the United States and Sweden. Not only have traditional hot rod builders, car clubs and artists returned to the roots of hot rodding as a lifestyle, but there is a whole new breed of hot rod builders, artists and styles, as well as classic style car clubs.
Entertainment Featuring Building Cars And Hot Rod Culture
Many magazines feature real hot rods, including the upscale Rodders Journal. Commercial magazines include Hot Rod Magazine, Street Rodder, Ol Skool Rodz, Car Kulture DeLuxe, and Popular Hot Rodding. Television shows such as My Classic Car, Horsepower TV, and Las Vegas shows feature hot rods as a permanent part of North American culture.