Hot Rod modification - when is enough, enough?
Chopping,
Channeling & Sectioning
Keeping in mind the old truism, "Just because you can, doesn't mean you should," here is another truism:
Modifying a hot rod has no limits.
To do something just to do it, however, serves no useful purpose. Unless you are going for shock value or trying to make a point, the reason to modify your car, or anything else, is to improve upon it.
For instance, if you are a photographer trying to create an image more perfect than reality, a rule of thumb using Photoshop tools in modifying a picture is to be subtle. The same holds true for cosmetics on a beautiful woman's face.
So, what is "Chopping," "Channeling" and "Sectioning," and why might you want to do these things to your beloved hot rod?
CHOPPING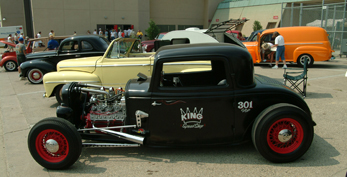 You lower the overall height of a vehicle by removing material from the window area by "chopping" or removing material from the door and window posts, and also the glass.
Going back to the early days of hot rodding, "Chopping the top" reduces the frontal profile of a car and increases its speed potential. Chopping is popular on custom cars and leadsleds, as well as racers.
Some racers on the dry lakes chopped the tops of their cars so severely that the windows were only a few inches tall (sometimes referred to as "mail slot" windows).
Roof chopping also quickly became very popular with drag racers for much the same reasons as it did for lakes racers.
Sam Barris, one of the Barris brothers whose devotion to the art of custom led to the birth of the custom car industry, is accepted as the first roof chopper. Sam chopped and customized his brand new 1949 Mercury, creating a classic look still revered by hot rod aficionados.
According to the website http://www.barris.com/history.html, Sam Barris was the first to chop a hardtop - Larry Ernst's 1951 Bel Air fastback, his own 1950 Buick, and the Hirohata 1951 Merc.
The style he infused into the custom scene is honored by the Sam Barris Award granted every year at the Sacramento Autorama.
Barris also pioneered a more advanced form where the B-pillar is removed turning it into a pillarless hardtop in the process.
The proportions of a Ford Model T or Model A can be greatly improved by chopping the top. However, more recently we see hot rods with more limited chopped tops above more channeled bodies.
In 1957, I owned a 40 Ford coupe that I personally believe would not have been improved with a chopped top. One needs to consider carefully the amount of chop depending on the body style of the vehicle. Three inches out of the top of a Model A is about correct, while some say six inches on a 1951 Chevrolet is right.
Just remember, too much is worse than not enough. Also remember that you and your buddies need to sit in the car, and maintain visibility.
Providing you have learned the skill of welding, it is fairly simple to chop the top of a car with vertical door and window pillars. Basically, you determine how much to remove, cut that much out, and then weld the top back on.
This task becomes more complicated if the posts are not perfectly vertical. A great deal more work is now required. You may need to enlarge the top, or the posts might need to be leaned back to rejoin the top to the body. You may also need to stretch the top from front to back, or from side to side.
Find a chopped car like yours that you like the chop on, and ask the owner how much he removed and his procedure. It's worth a little research to get it right the first time. You don't want to botch the job, as it is difficult to go back and do it again.