NHRA - World's largest auto racing organization ...
National Hot Rod Association
As the world's largest auto racing organization, the National Hot Rod Association (NHRA) boasts 80,000 members and more than 35,000 licensed competitors.
Drag Racing's Humble Beginnings
Speeds first topped 100 mph on the dry lake beds of the Mojave Desert in California, where hot rodders started congregating in the 1930s. Drag racing got its start there in the post World War II years.
Wally Parks, An Organizer
Born in 1913, Wally Parks' fascination for automobile performance was piqued after attending his first dry lake speed trials event in the 1930s. He co-founded the Road Runners Club in 1937.
In 1947, Wally Parks helped organize the Southern California Timing Association, later becoming its general manager. Through diligent efforts, Parks instigated the SCTA "Speed Week," first held in 1949 at the Bonneville Salt Flats. There, racers first began running against the clock.
The Santa Ana Drags became the first dragstrip, running on a Southern California airfield in 1950. As you can imagine, these drag races become popular very quickly.
NHRA Created For Safety and Standards
Using his power and the forum while editor of Hot Rod magazine, Wally Parks formed the National Hot Rod Association in 1951 to "create order from chaos." NHRA instituted safety rules and performance standards that helped legitimize the sport.
The Los Angeles County Fairgrounds parking lot in Pomona, California was the site of the first official race sponsored by NHRA in 1953.
Today, four decades and $6-million later, that expanded Pomono track hosts the NHRA season-opening CARQUEST Auto Parts NHRA Winternationals and the season finale, the Automobile Club of Southern California NHRA Finals.
For safety, Wally Parks initially started NHRA to get hot rodders off the streets and onto legal dragstrips. NHRA has evolved into the largest promoter of professional drag dracing in the world, creating a momentum of fun while making the sport safer.
Today's NHRA Reaches Out To
All Hot Rod Enthusiasts
NHRA sponsors more than 20 categories of competition,
including,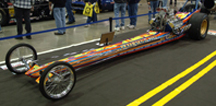 at the professional level:
| | |
| --- | --- |
| | Top Fuel |
| | Funny Car |
| | Pro Stock |
| | Pro Stock Motorcycle |
Historic Top Fuel Dragster
But this organization is not just for pros - NHRA offers drag racing opportunities for hot rod enthusiasts of all levels. Kids ages 8-17 participate in the NHRA O'Reilly Auto Parts Jr. Drag Racing League, all the way up to the top of the professional ranks with the $50 million NHRA POWERade Drag Racing Series.
NHRA competitions span seven geographic regions and one hundred forty member tracks across North America.
Along with the POWERade Series, NHRA offers weekly grassroots programs at member tracks, such as the popular NHRA Street Legal Drags presented by AAA program, a grudge-match-style drag racing competition.
Serious amateur drag racers can compete at local tracks in the Summit Racing Series, and the NHRA Lucas Oil Drag Racing Series challenges those interested in a career as a touring pro.
2007 was the last year for the NHRA Xplod Sport Compact Racing Series, which has been released to NOPI and will be called NOPI Drag Racing Series sanctioned by NHRA.
In terms of attendance, fan appeal, and sponsorship, NHRA is second in popularity only to NASCAR. Sponsorship is essential in auto-racing, and NHRA's key business partners and sponsors include Coca-Cola Co., Lucas Oil Co., Summit Racing Equipment, Budweiser, Fram, Pontiac, Checker Schuck's Kragen, and GMC. NHRA's major series are covered on ESPN.
NHRA's open-pits policy grants the best access to behind-the-scenes action of racing. Fans get an up-close view of the way teams rebuild engines in less than 75 minutes.
Drivers often sign autographs and chat with fans in their pit area.

Why wouldn't NHRA fans
be the most loyal of any sport?

For more information, visit the NHRA website at: http://nhra.com