History of the Hot Rod Culture
Hot Rod Era Begins
The term "hot rod" was adopted in the late 1930s as the name of a car that had been hopped up by modifying the engine in various ways to achieve higher performance.
It first appeared when kids from southern California would race their modified cars on the vast, empty dry lake beds northeast of Los Angeles under the rules of the Southern California Timing Association. The term "hot rod" became popular during and after World War II, particularly in California, as soldiers returning from the war took up the lake bed drag racing.
"Hot Rod" originally meant most often a Ford, and typically a Model T, Model A, or a 1932 to 1934 Ford Model B or Ford V-8.
While no one is exactly sure how it started, the term "hot rod" may have originated from "hot roadster." Open roadsters were chosen to modify because they were light. Hot Rod was used in the 1950's and 1960's as a derogatory term for any car that did not fit into the mainstream.
Burning out the connecting rod bearings (creating "hot rods") was a common failure for souped up four-cylinder fords. Some sources indicate that the term was derived from replacement of connecting rods in these engines to reach higher RPMs without failing.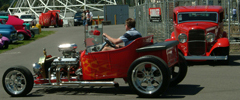 Design Features Of The Hot Rod
Owners modified these cars ...
... removed the roof, hood, bumpers, windshield and/or fenders to reduce weight
... lowered them by modifying, tuning, or replacing the engine to give the car more power
... changed the wheels and tires to improve traction and handling
... embellishments - paint often included a flame job, pin-striping or candy apple color
Origins of Drag Racing
After World War II, many abandoned or rarely used small military airports allowed Hot Rodders across the country to race on marked courses. Originally Drag Racing had tracks that may have been as long as 1 mile or more, and included up to 4 lanes of racing at the same time.
Magazines and associations catering to Hot Rodders were started, as the sport became more popular in the 1950s. Hot Rodders began to race on the street in addition to drag strips, the next logical step being an organization to promote the image.
Creation Of The NHRA
Wally Parks and other hot-rodding enthusiasts created the National Hot Rod Association (NHRA) to bring racing off the streets and onto the tracks, creating rules based on safety and entertainment.
Hot Rodders of any caliber were granted the ability to race. The annual California Hot Rod Reunion and National Hot Rod Reunion are held to honor pioneers in the sport. The Wally Parks NHRA Motorsports Museum houses the roots of hot rodding.
Enter The Muscle Car Era

The Hot Rod era extended from 1930 to the beginning of the Muscle Car era of the 1960s. During this time, "vintage tin" was readily available. Many cars manufactured prior to 1942 had sound bodies and frames, but the running gear of early cars was not durable. These junked cars could be had cheaply.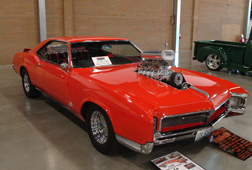 The "classic era" of hot rod construction ended around 1965. Vintage tin was harder to come by, but mostly because new cars came straight from the factory with greater speed and power, with little or no modification. As original vehicles offered from the major automakers began increasing performance, the lure of hot rods began to wane. Now you didn't need to put a beefed up engine into a Ford roadster to be fast.
For example, a Pontiac GTO - the original muscle car - could outperform your hot rod, and still have enough room to fit the family (or the girlfriend plus her girlfriends, and their giant purses!).
This new breed of cars was fast, loud and exciting. Very popular throughout the 1960s.
Then the oil crunch started changing public perception. After the 1973 oil crisis, public demand was for safety and fuel efficiency over performance.
Street Rodding Today
As Muscle Cars fell out of favor, we saw a resurgence of Hot Rodding. The new the focus was on driving hot rods over racing, so the term 'Street Rod' was coined to denote a vehicle manufactured prior to 1949, often with a late model drivetrain for reliability.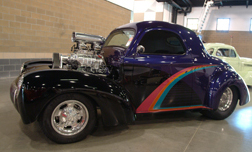 Today, Street Rodding is a different phenomenon than Hot Rodding. Street Rodding is often family oriented. National events are hosted by the National Street Rod Association.
NSRA also stresses safety as the NHRA does, but this is safety for the street as opposed to on the race track. Each NSRA event has a 'Safety Inspection Team' that performs a 23 points inspection process that goes beyond what normal State Safety Inspections Require.
The hot rod community has now been subdivided into two main groups: hot rodders and street rodders.
Hot rodders build their cars using a lot of original, old parts, and follow the styles that were popular from the 1940s through the 1960s.

Street rodders build cars (or have them built for them) primarily using new parts.
The origins of hot-rodding were a little rebellious, even counter-culture. Today's hot rod and street rod culture is fun, inclusive, and distinctive but mainstream, with a fast-growing global family.