Street Rods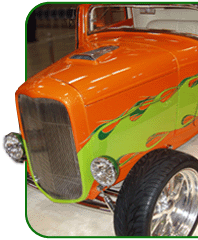 Perhaps in no area do we risk raising more ire from all sides than trying to define the modern Street Rod.
Street Rods are generally considered vehicles built prior to 1949, often with new and/or customized parts. Similarly treated antique cars built later than 1948 are referred to as Street Machines.
Many people see this quite differently, however, in the many gray areas between the sub-classes of antique cars that fall within the hotrod category.
Definitions by their nature are limiting. Since all hot rods are an artistic expression of the owner, how do we contain works of art, which seek their own fulfillment? And why would we want to?
Thumbnail History Of Street Rodding
To understand how street rodding got started, let's go back to the beginning.
The term hot rod first referred to cars that had been hopped up by modifying the engine to achieve high performance and linear speed. Hot rods were usually American cars with large engines, sometimes "flamed," or painted with flames to show they were HOT.
The purpose? Drag racing!
In today's drag racing, cars or motorcycles race down a track with a set distance, as fast as possible, in a heavily modified or custom-built vehicle. In the 1930s and '40s, owners (usually young men) raced against each other on dry lakebeds, but also on the streets.

The newly formed National Hot Rod Association (NHRA) created safety standards and encouraged dragsters to move to abandoned air fields and other places designated for safety. Of course, people are still killed on the surface roads every year due to illegal drag racing, but that is a matter for another article.
Classic Cars, Muscle Cars, More Hot Rods and Street Machines
Things that go fast have always excited humans. Invention of the car and its progressively louder, faster engines continues to thrill. While hot rods were relegated to drag strips in the 1950s, Detroit continued to pump out higher performance in many luxury and high-end street cars such as the 1959 Chevy and '55 Buick Century Impala.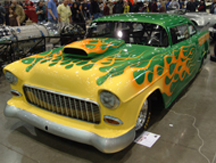 Lighter-weight, more affordable high performance vehicles followed in the 1960s, later dubbed "muscle cars," whose era was fairly short and monetary value has exceeded anyone's expectations.
While the oil crisis and safety concerns put an end to the muscle car era in the early 1970s, drag racing itself continued to evolve into a highly organized sport enjoyed by millions of spectators around the world.
Overlapping the muscle car era, nostalgia for the early hot rod era rebirthed the hotrod industry. Many people rebuilt hot rods from good bodies that had been junked.
Shortage of Hot Rod Parts
There was only so much vintage tin. In addition, original mechanical parts were unreliable, and the original cars lacked many modern safety standards. New technology was vastly more efficient.
So it was logical to re-create the romance in design and the rumbling, high-performance engines, but with new bodies, new parts and modern technology.