Hotrod Events & Shows

Whether or not you own a hot rod, part of the fun is enjoying a leisurely day kicking the tires (that's a phrase -- please do NOT really kick any tires at hotrod events!) and chewing the fat with other hot rod and street rod enthusiasts.

If you have a rod, sign up to show it off at an event near your home, or have some fun and travel the continent.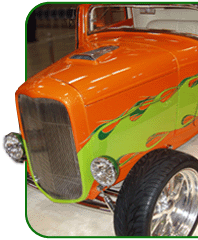 Take a Hot Rod Vacation!

To admire the many creative designs and dream while enjoying a vacation, pack up the family and head for one of the many hotrod events and shows held around North America and other parts of the world.
What a great excuse to visit some of the many cultural landmarks and natural attractions in the United States! In the future, we will list excursions and attractions to visit during your hot rod vacations near major event locations, such as Mammoth Cave when you attend the National Street Rod Show at Louisville, Kentucky.
Hot rod clubs and culture thrive in Canada, Australia, the United Kingdom, Sweden and other countries. Why not incorporate an overseas vacation with a hot rod event!
Why Should You Visit a Hot Rod Show?
Just for the fun is reason enough. But maybe you want to ...
Find hot rods for sale?
Learn how to build or assemble one yourself?
See the latest in technology and design trends?
At a hot rod or street rod show, you may find hot rods and vintage cars for sale, as well as vendors and suppliers servicing the hot rod industry. Information on every subject is freely shared by vendors and hot rod owners.
Can't decide whether you want a steel body, or fiberglass?
Confused by the choices in paint and street rod flames and other designs?
Crave the satisfaction of building your own, but don't know where to start?
At hot rod shows you can examine different types of hot rod frames, auto body design and material, paint, special headlights for rods, wheels and tires, hot rod decor and embellishments, upholstery for antique cars, hot rod engines and parts, and much more.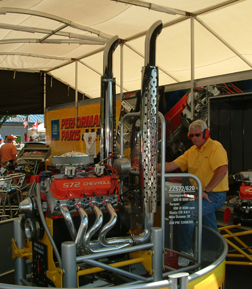 If you want to locate the correct parts and paints for your new hot rod project, you'll want to get to a hot rod show. Sometimes, you'll even get an extra special treat ...
... For example, the largest crowd-drawer at the August 2007 Hot Rod Show in Puyallup, Washington was the Chevrolet 572 engine. Lucky guests were treated to eardrum-blasting demonstrations, regularly scheduled every half-hour. Every hot-rodder on the grounds could agree the sheer power of this spine-tingling monster was worth the price of admission alone.
There are lots more tame adventures to be discovered as well, such as models of every style of antique car, radio controlled cars, clothing and accessories, art, music, food and lots of new friends to meet.
Below you will find schedules for some of the main shows held in the United States, and links to some others. Check back often - we'll add more local events as we discover them.
NSRA, AACA, NHRA and Local Club Events
National clubs such as the Antique Automobile Club (AACA) and the National Street Rod Association (NSRA) attract large gatherings at national shows. Consider attending one of the local shows put on by chapters of these organizations, as well as the many local clubs all over the United States and the world.
If the excitement of drag racing is more your style, the National Hot Rod Association (NHRA) offers drag racing for pros, amateurs and kids at locations across the country.
We'll be adding more local events to the Event Schedules so check back often to find something in your area.