"... there is no substitute for cubic inches and no replacement for displacement"
Muscle Car Club
Muscle Cars
The Muscle Car Club welcomes us to a "celebration of an era when the number of cubic inches was more important than the number of cupholders, and quarter mile times meant more than inches of ground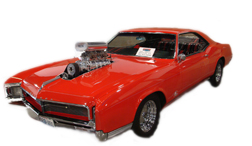 clearance."
A healthy celebration indeed, with prices for the high quality vehicles creeping toward the $200,000 mark. The rarest vintage 1965–1972 muscle cars can cost as much as US$500,000 (for certain original models and options) and possibly more depending on availability, demand, and condition of the vehicle.
In 1969, for example, who would have thought the Dodge Daytona 426 Hemi you just bought would ever be worth a whopping $177,950?
Or how about that 1969 Chevrolet Camaro Yenko 427 ... does it make you sick to think that if you had hung onto it and kept it garaged for the next 35 years, it could be worth as much as $150,400?
Indeed, these prices were quoted in the October 2005 issue of Muscle Car Review. According to the Muscle Car Club, all muscle cars are inherently valuable, reflecting "a time long ago when sheer performance mattered more than cupholders and reputations were created and destroyed on the drag strip and at streetlights across the nation."
Description Of Muscle Cars
The Pontiac GTO is widely considered the first true muscle car.
During the era, print media usually referred to this class of vehicle as "supercars". The term "muscle car" did not become common until after production of the cars had essentially ended, taking hold by the early to mid-1980s.
A classic muscle car is usually made in the U.S. or Australia between 1964 and 1975. Models considered muscle cars were primarily built in the United States, Australia and South Africa.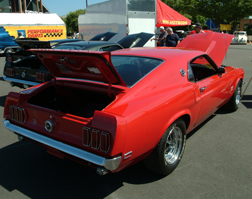 The term generally describes a 2-door rear wheel drive mid-size car with a large, powerful V8 engine and special trim. They were intended for maximum torque on the street or in drag racing competition. A muscle car is an affordable, medium weight automobile with a high horse power engine, capable of accelerating fast.
One caveat to the weight-rule is earlier vehicles. Heavier cars were the norm before performance-oriented intermediate size cars started to appear in 1964. Until the mid-1960s, manufacturers added extra performance to full-sized vehicles.
Early full-size performance vehicles, such as Chevrolet Impala SS, and Ford Galaxie with 390 + cid engines, are considered muscle cars.
Which Cars Are NOT Muscle Cars?
Cost and weight were a factor. Luxury vehicles with performance engines and options, such as the Pontiac Grand Prix, are not considered muscle cars due to their heavy weight and high sticker prices, which go against the low cost performance definition of muscle cars.
Sports cars are not considered muscle cars. Sports cars were customarily smaller, two-seat cars, or GTs, two-seat or 2+2 cars intended for high-speed touring, and possibly road racing. Due to their high price and specialty nature, high performance sports cars such as the Chevrolet Corvette are not considered muscle cars.
The "regular" production vehicles are generally not considered muscle cars, but rather, only the high performance version based upon them, such as the Oldsmobile 442.