Enter The NSRA
Now owners wanted hot rods they could drive on the street, comfortably, safely and efficiently. The National Street Rod Association (NSRA) was formed in 1970, serving for the new street rods much the same function as the NHRA did to organize, promote and establish safety standards for drag racing early hot rods.
NSRA Street Rod Standards
NSRA organized a nationwide community of street rod enthusiasts and established standards, a 17-point safety check, such as the inspection given this picture-perfect bronze street rod at the 2007 Louisville Nationals.
According to the NSRA:
"One of the fastest growing groups of enthusiasts interested in the older cars are street rodders; the owners and builders of street rods. A street rod is the most practical type of old car.

"By definition a street rod is: An automobile of 1948 or earlier manufacture which has undergone some type of modernization, to include any of the following; engine, transmission, interior refinements, and any other modifications the builder desires. A street rod is to be driven to events under its own power and is to be used as a safe, non-racing vehicle for total family enjoyment."
Street rods have the appeal of an old car, with the comfort and safety of modern mechanics and conveniences. Street rods can be built from original frames and bodies, or true replicas with completely new frames or bodies, either steel or fiberglass. For street rods, there are few rules beyond the pre-1949 cutoff.

Presumably, the legislative codes of some states derived from the NSRA standards. For example, the Pennsylvania Code reads:
Street rod—A motor vehicle, or a reproduction thereof, with a model year of 1948 or older which has been materially altered or modified by the removal, addition or substitution of essential parts and with a gross weight or registered gross weight of not more than 9,000 pounds.

At NSRA Nationals, no original or replica vehicle newer than 1948 is allowed to enter. This eliminates the classic cars and muscle cars.
All vehicles must drive onto the Exposition Center grounds under their own power. Attend the Nationals and you will see every sort of pre-1949 hot rod imaginable – traditional rods, rat rods, hot rod trucks and buses, hot rod motorcycles, and thousands of gorgeous street rods, including show cars so long as they are operable.
See Muscle Cars & Classic Cars at Other Hot Rod Shows

At many local hot rod shows, however, all antique cars (vehicles more than 25 years old) are welcome. You can enjoy a variety of muscle cars as well as some fine classic cars from the 1950s, such as the 1959 Cadillac El Dorado, whose owners often set hearts aflutter while driving them on the streets.
So what sets these sub-classes apart? We wouldn't want to limit by definition, so work with us here ... imagine a flowing contiuum rather than sharp delineation.
Sub-Classes of Hot Rods
If a "hot rod" is a vehicle that has been custom-built or modified to go faster, then technically, muscle cars and today's modern dragsters and race cars are all hot rods. Indeed, most people who love big-block cars will have a favorite era, but appreciate other high-performance cars.
Within the hot rod culture, these pre-1949 cars are the accepted "hot rods" as the term is commonly used.
Even within that narrower range, some hot rod owners compete their cars in drag races. NSRA defines a street rod as a car that is driven, not raced. However, even replica street rods are entered in drag racing competitions sponsored by local clubs and shows! For example, the Good Guys pacific Northwest Nationals sponsors a Friday night drag race at Pacific Raceways in Kent, Washington.

On the other hand, many rat rods and traditional rods are only driven, not raced, and therefore technically fall within the street rod category. Yet many of their owners recoil at the idea of anyone calling their true-to-period vehicle a Street Rod.
Why?
Traditional Rods and Rat Rods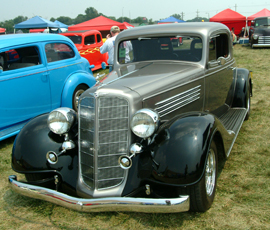 Building Traditional Rods is a growing trend to return to hot rodding's roots. A traditional hot rod is built by its owner, put together using as many original parts as possible. Stay period-correct with the style, theme and all parts of the vehicle. For instance, older cars would have a generator, not an alternator. There is a lot of gray area and cross over, but purists look at the correctness of every bolt.
Traditional Rodders do not necessarily limit themselves to the pre-1949 rule either.
Some rat rods might be considered an extreme faction of traditional rods. Other rat rodders go all-out to make an artistic statement of their own.