Finally ... Street Rods!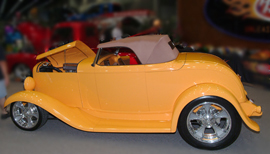 A street rod could be defined as being a car that resembles a traditional hot rod, but built with new parts.
Some street rods are built, assembled or modified by their owners. In general, street rods are less likely to be built by their owners than traditional or rat rods.
Many companies build street rods to order. For example, Steve's Restoration has just announced they are taking orders for a "Real Steel" body for a 33/34 Ford coupe to be made in Detroit.
And American Street Rod, Inc. makes fiberglass bodies and chassis for the following:

'37 Ford Roadster
'37 Ford Coupe
'32 Ford Chassis
'32 Ford Coupe
'67-'68 Mustang Eleanor
'32 Ford Roadster
'41 Willys Coupe
Pedal Car Bodies (for kids)
Race Kart Bodies – NEW
Street Rod Construction With Modern Parts

High-tech street rodders may use exotic, hand-formed bodywork, and custom-machined parts that often include independent suspension, trick paint, and billet aluminum wheels with low-profile radials. In contrast, bias ply tires were in use during the era, and traditional rods will use bias ply tires. Street rods often sport the modern, safer radial tires.
Street rod owners may enjoy modern conveniences such as air conditioning, cruise control, power windows, power steering on a tilt column, digital instruments, tape decks or CD players, and so forth. You would never find these creature comforts in a traditional rod!
Artistic Design of the Street Rod
Without having to conform to cultural standards imposed by the other hot rod classes, the street rod o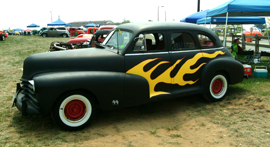 wner is free to create a unique vehicle with unlimited artistic expression.
Attend a hot rod or antique car show and you will see a flat black Deuce Coupe next to a shimmering purple '50s Merc, next to a chopped '44 Ford with exotic flames over a bright orange base paint, next to a rat rod covered in rich patina.
Paying the Price
The thriving street rod marketplace offers many fine used vehicles with a wide price range. A newly built modern, high-tech, turn-key street rod can range from around $100,000 upwards. One builder quoted $185,000 to build a turn-key steel body Deuce Coupe.
The upper price range is limited only by the owner's imagination and bank account, especially with show cars that are trailered to show competitions. While these high-priced vehicles CAN be driven on the road, they very seldom are due to their value.
Many hot rodders view them in a whole other category altogether.
Street Rodders Enjoy the Ride!
Most street rods are built to be driven and enjoyed, so why not have the creature comforts and amenities? Today you can take a road trip in high style, in a safe, comfortable old-style car showing off your personal and unique artistic expression.